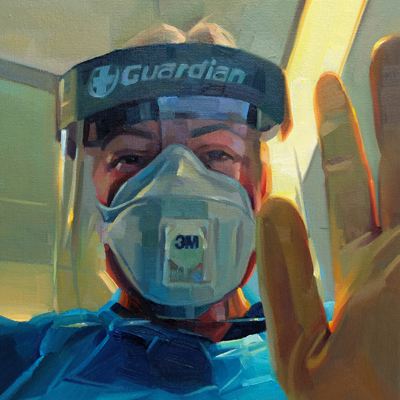 In March 2020 the government locked the country down to restrict the spread of the Covid-19 virus.
As a painter I am used to spending time working alone in my studio so assumed this wouldn't be too much of a change to my normal routine, at least work wise.
I like some background noise to work along to, so my brain is partially on the process of painting but with some white noise too to distract me from doubt, so I usually have the radio on. Unlike say Brexit which totally dominated the news at the time, there were at least other news stories around and live sport, music and theatre to punctuate it. This was one event though, globally, totally relentless, bleak, scary and completely tragic. If we were lucky enough to make it through the physical threat/dangers the economic impact would be devastating for everyone. I listened to too much rolling news to be healthy for me.
I couldn't find any focus in my work because frankly it seemed completely pointless in the grand scheme of things. I did take some comfort though that I wasn't alone – other artists I spoke to and followed on social media seemed to be struggling in the same way.
So I thought about it. What is the point of a portrait? It is an artistic representation of somebody, in my case a painting or drawing. Ideally with a good physical likeness. Then if it's a good portrait it can go deeper below the surface and say more about the subject than just a snapshot. Unlike a selfie that is just a split second in time. Done well it can be a more considered overview of them as a person and give a sense of the essence of who they really are. Character and personality can all be captured or referenced in a successful portrait. In the past portraits have been seen as a status symbol, or produced to celebrate someone, mark some significant achievements, milestones and potentially to elevate that person in the eyes of others.
A portrait is a permanent physical record of someones existence. It also immortalises people, as the portraits are likely to last far longer than the subjects.
So who should be immortalised today? Who should line the walls of galleries and have future generations look back on as the people who really made a difference and stepped up, in our latest darkest hour. The people who put self interest and self preservation to one side and literally risked their lives knowingly on a daily basis for our well being. The NHS workers. Absolutely.
So I posted a video on Instagram saying I would like to paint a free portrait to the first NHS Key Worker to contact me. I also suggested that other portrait artists might like to offer one too. Artists were asked to post their portraits under the hashtag #portraitsfornhsheroes so everyone could be seen online in a virtual exhibition. Then at the end of the pandemic, when restrictions are lifted and mass gatherings are allowed again, we could have a wonderful exhibition to celebrate and say thank you, to the heroes of the NHS.
Keep reading and scrolling to find links to the online exhibition and the book…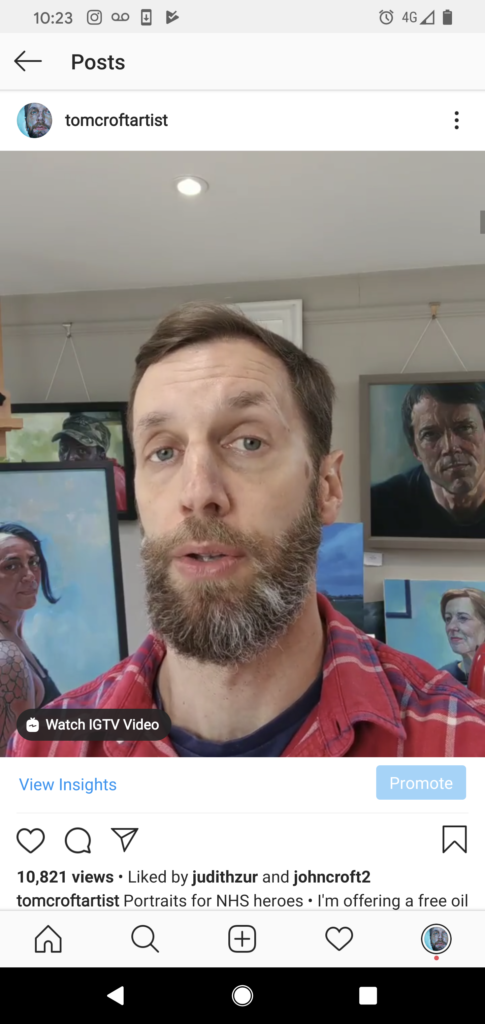 I have been overwhelmed with the response and moved by the messages from both NHS workers and artists alike. I have also been amazed at the quality of artists coming forward to offer their work for free as a thank you. It shows how indebted we know we all are to these NHS frontline workers. I am so pleased there are now similar initiatives based on #portraitsfornhsheroes in Ireland, Belgium, Italy, Spain, Greece, Poland, Malaysia, Canada and America. More continue to join in and pay thanks to their health care workers through portraiture.
I was lucky enough to have Harriet, an A & E nurse in Manchester, contact me first in reply to my offer.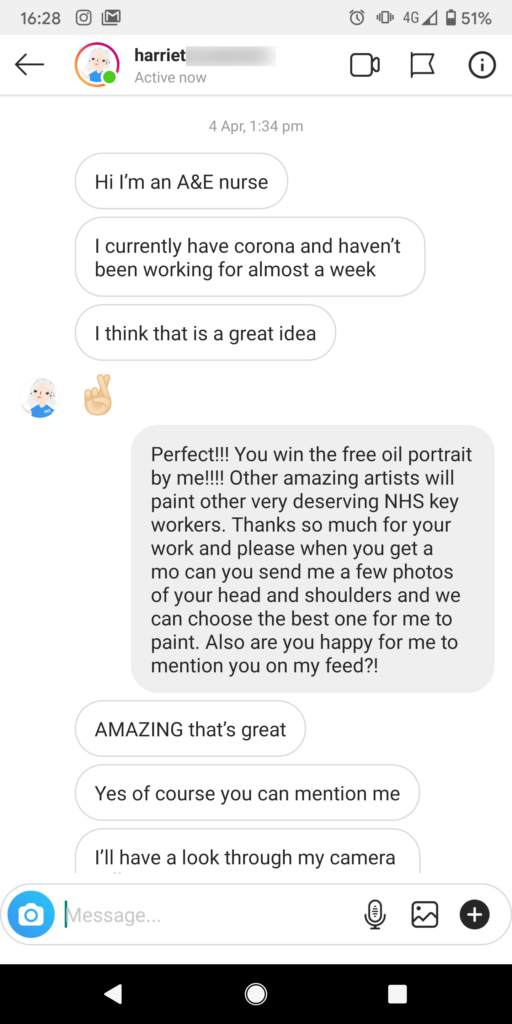 There were obviously two sides to Harriet. The Harriet her friends and family know and the one who suits up in her role as an A&E nurse at the Manchester Royal Infirmary. Harriet had contracted the Corona virus and had self isolated, as had her partner, a GP. They were both recovering and just heading back into work.
I thought I should paint two portraits of Harriet, one at work in her PPE gear and one to show her out of work in a more traditional portrait.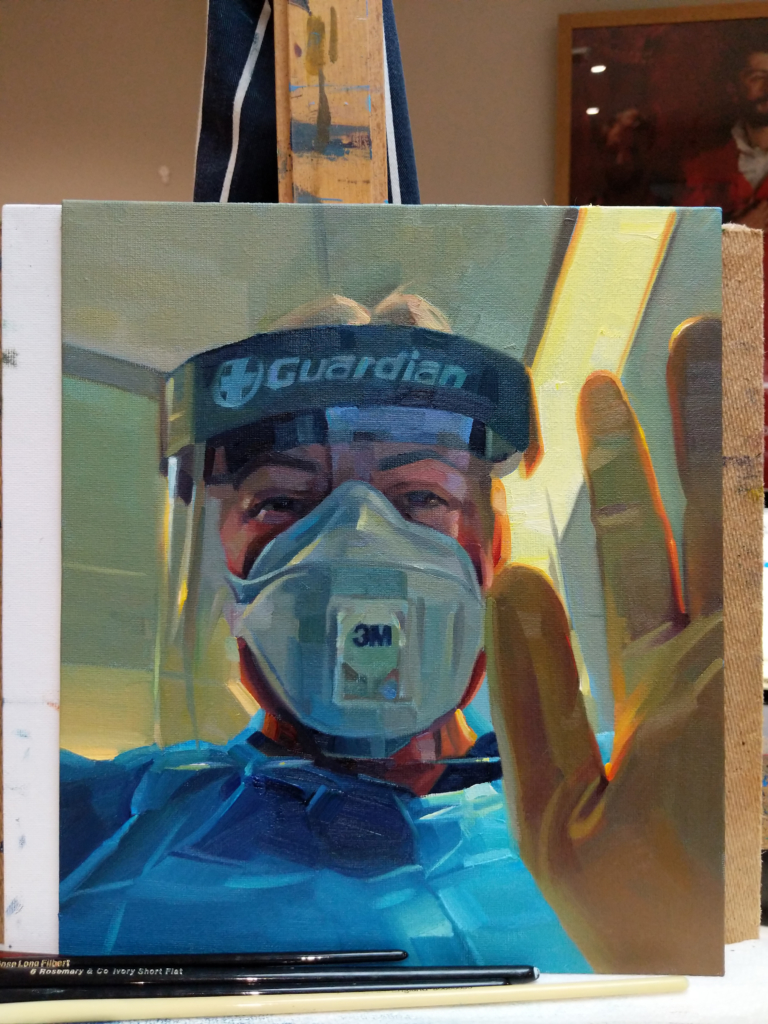 As the initial idea has grown way beyond my expectations to the point where sadly I can't personally match everyone up, I would like to suggest the following to those wanting to participate.
If you are an artist and would like to offer a free portrait to an NHS key worker then please post the green canvas from my Instagram @tomcroftartist on your social media, which includes the hashtag #portraitsfornhsheroes, then an NHS worker can search for the hashtag, see your offer, and contact you directly to apply for a free portrait.
Similarly if you are an NHS frontline worker and would like to put yourself forward for the chance to get a free portrait, please look out for the green canvas by searching for the hashtag #portraitsfornhsheroes and message the artist. There is obviously a limited amount of portrait artists out there but it would be nice to reach as many people as possible.
Finally if everyone posts their portraits under the hashtag #portraitsfornhsheroes then we can all see them as an online exhibition.
I will update about a possible physical exhibition in the future, hopefully!
Thanks so much to all the lovely artists and NHS staff who have joined in with this project already, it's been a pleasure to watch the results.
For latest updates you can click on my Instagram button below the press links.
Some links to press coverage: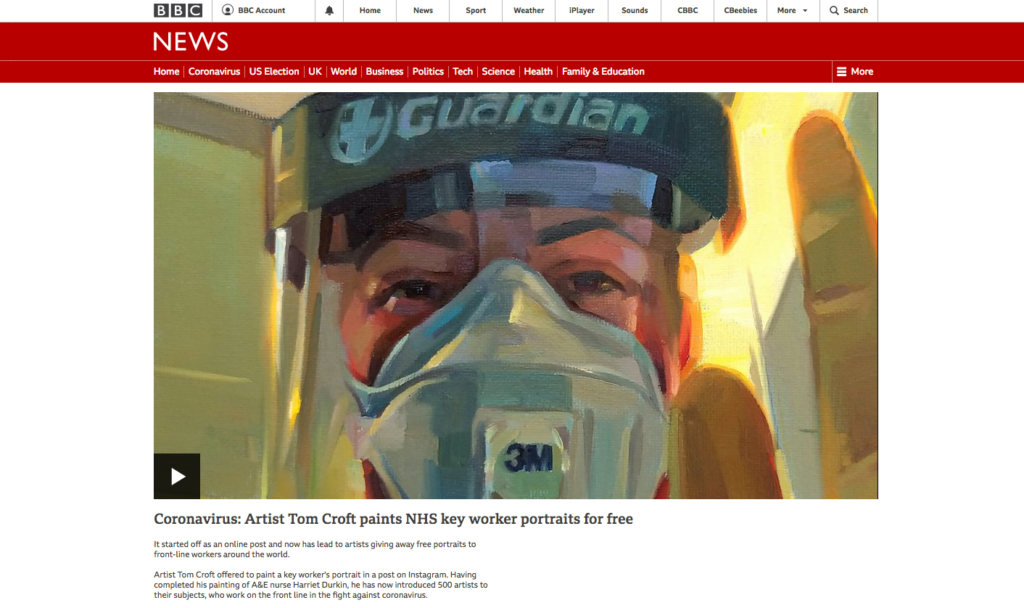 I am hugely indebted to Will Gompertz for getting the initiative onto the BBC news and spreading the word further. Click on the link below
https://www.bbc.co.uk/news/av/entertainment-arts-52319539/coronavirus-artist-tom-croft-paints-nhs-key-worker-portraits-for-free
https://www.standard.co.uk/go/london/arts/tom-croft-artist-portraits-nhs-workers-a4420876.html
https://news.sky.com/story/coronavirus-striking-portraits-capture-honesty-rawness-and-reality-of-nhs-during-the-pandemic-11995612
https://makingamark.blogspot.com/2020/04/painting-portraits-of-nhs-heroes.html
https://www.artistsandillustrators.co.uk/news/blog/2302/artists-illustrators-magazine-latest-issue-summer-2020
https://www.theguardian.com/news/2020/apr/22/true-life-portraits-imaginary-nuptials-and-fantasising-sheep
I was delighted Artists & Illustrators magazine featured my Portraits for NHS Heroes initiative on the cover of their summer edition!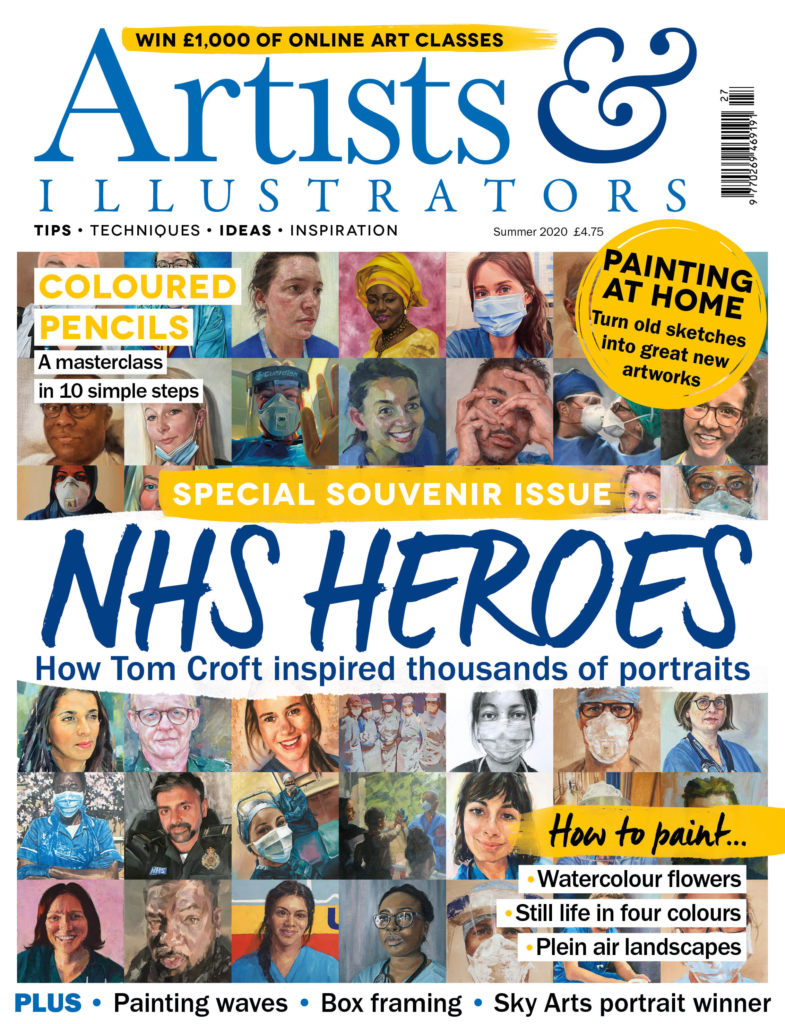 Also on the cover of Artist Talk magazine…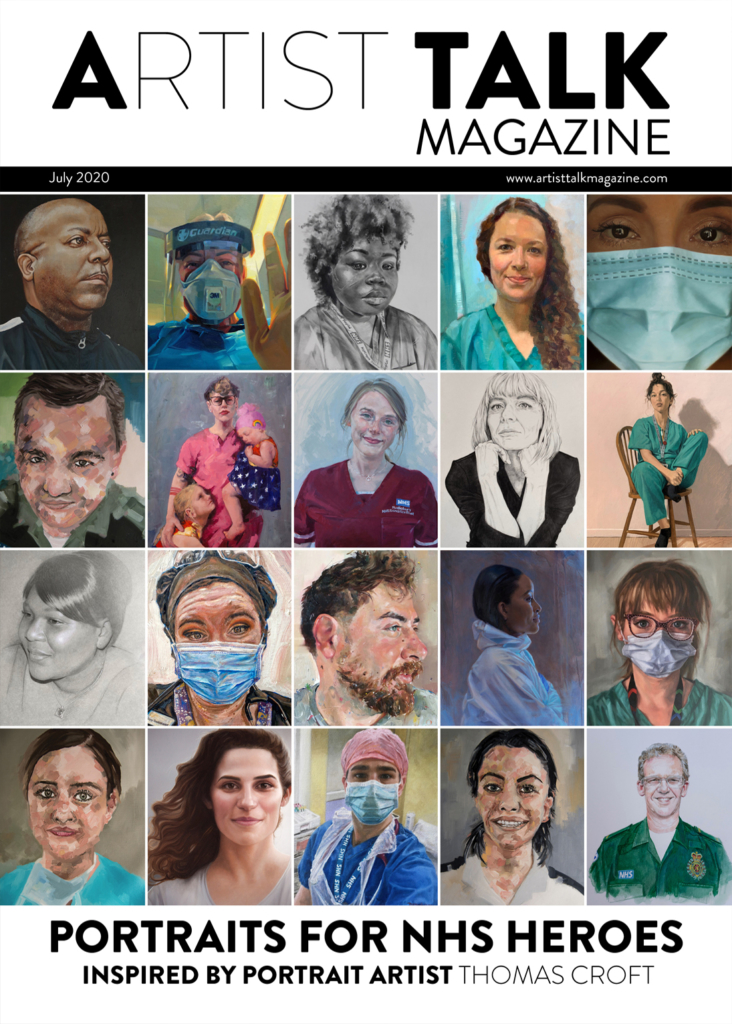 We even made it into Hello! magazine…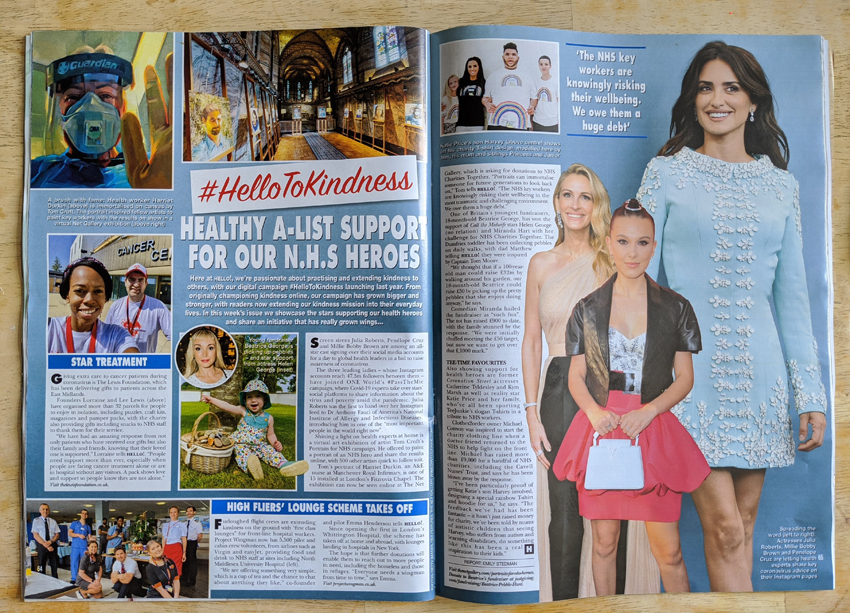 My sincere thanks to Grant Milne for getting Harriet on to the big screen at Piccadilly Circus!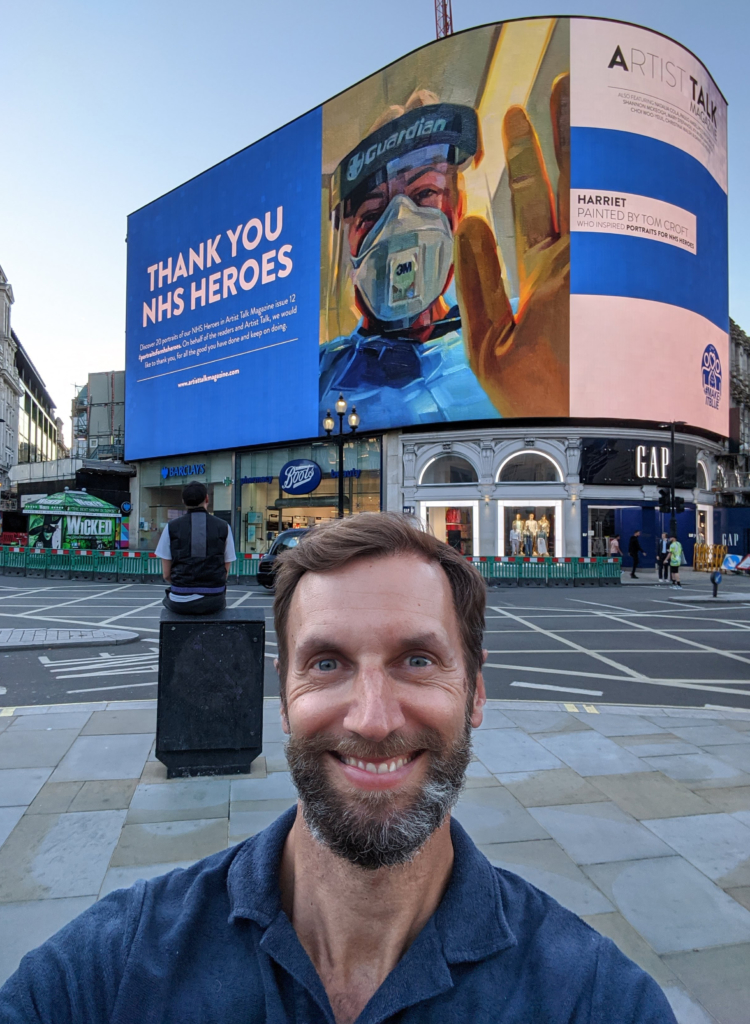 ONLINE EXHIBITIONS
The Net Gallery
I was contacted by The Net Gallery who very generously offered to produce an online virtual exhibition of just 15 NHS portraits set in the beautiful location of Fitzrovia chapel, the former chapel of Middlesex Hospital. I couldn't possibly choose 15 portraits from all the incredible works produced for #portraitsfornhsheroes but the answer presented itself. I am a very proud member of the Contemporary British Portrait Painters collective or CBPP. It is a group of some of the best contemporary portrait artists working in the UK today. By chance 15 CBPP members had completed their NHS portraits when the Net Gallery approached me. So these 15 images form the first online exhibition.
Below is a link to the Net Gallery virtual exhibition and interviews with the artists participating from the CBPP.
There is also a link on the Net Gallery site to donate to NHS Charities Together and any donation would be very gratefully received.
https://thenetgallery.com/portraits-for-nhs-heroes/
Google Arts & Culture in collaboration with Paintings in Hospitals
I am delighted to be able to share this link to the online exhibition of #portraitsfornhsheroes brought to you by Google Arts & Culture in collaboration with Paintings in Hospitals.
It is a wonderful exhibition of nearly 800 portraits all offered for free by artists wanting to thank NHS key workers for their extraordinary work.
I want to thank all the artists who took part and all the NHS workers who allowed us to tell their stories through portraiture.
I am extremely grateful to Edmund Connolly, Hazel Bryer and Natasha David at Google Arts & Culture for all their hard work in bringing this huge collection online in such a beautiful, creative and interactive way. I am indebted to Sandra Bruce-Gordon and Thomas Walshaw at Paintings in Hospitals without whom the exhibition wouldn't have happened.
Sincere thanks also to Mark Haddon, Kate Bryan, Adebanji Alade, Alastair Adams, Roxana Halls and Harriet Durkin for providing expert curations.
https://artsandculture.google.com/project/healthcare-heroes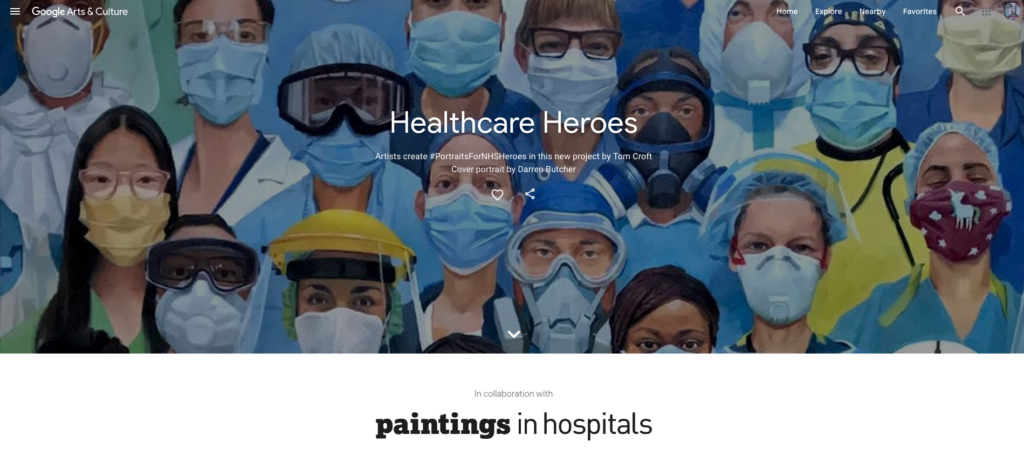 Portraits for NHS Heroes book with Bloomsbury
I am completely thrilled and delighted to have worked with Bloomsbury to produce a beautiful book celebrating the NHS portraits.
It's a stunning physical record and testament to the NHS workers at their most challenging time.
As well as being a wonderful permanent document, all royalties from the book go to NHS Charities Together.
I'm indebted to Clare Martelli, Lucy Morton and Natasha Collin at Bloomsbury for producing such a beautiful high quality book in record time.
You can order your copies NOW on Amazon, Bloomsbury's website or in your local independent book shop.
https://www.amazon.co.uk/Portraits-NHS-Heroes-Tom-Croft/dp/1448218004
https://www.bloomsbury.com/uk/portraits-for-nhs-heroes-9781448218004/